More About Cacoa Powder (Organic)
Studies have shown that the antioxidant flavonoids in Cocoa can be beneficial to heart health, and may help maintain healthy cholesterol levels. Cocoa may also help maintain normal blood pressure, improve skin condition, and boost normal responses to insulin. Preliminary research also suggests that Cocoa may help with cognitive performance, attention span, reaction time, and problem-solving skills by increasing blood flow to the brain.
Cacao contains several compounds which stimulate the production of dopamine in the body. It also contains potent mood enhancers of its own, which can encourage an overall sense of well-being.
To find out more information or to place an order, please call +44 (0) 1273 689689 or email trevor@nutraingredients.co.uk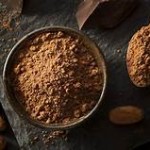 Cacao and Cocoa, with an appealing aroma and taste, have numerous health benefits which help promote health and overall well-being. As you can see here, the nutritional profile is remarkable.
Minerals calcium, iron, zinc, copper, potassium, sulfur and manganese. Cacao is considered as one of the best plant sources of magnesium which is vital in energy production and for healthy muscles, brain, nerves, bones and teeth Vitamins A, B1, B2, B3, B5, C, and E.
Good levels of polyphenols and flavonoids – powerful antioxidants that support heart and vascular health and help maintain healthy cholesterol, blood sugar and blood pressure levels.
Flavonols promote brain health, vascular elasticity and may provide neuro-protective benefits positively impacting learning and memory.
The flavonol epicatechin in Cacao has been found to promote skin elasticity and help reduce skin roughness and scaling.
Several organic compounds stimulate the production of dopamine in the body and potent mood enhancers such as phenylethylamine (PEA) can encourage an overall sense of well-being.
Xanthine and theophylline may help promote respiratory and pulmonary health by relaxing bronchial spasms.
Nutrition FactsServing Size: 100 gramsServings Per Container: May Vary
Amount Per ServingCalories: 439.4
% Daily Value*
Total Fat: 15.4 g
Saturated Fat: 9.3 g
Trans Fat: 0 g
Cholesterol: 0 mg
Sodium: 23.5 mg
Total Carbohydrates: 50 g
Dietary Fiber: 15.5 g
Total Sugars: 0.9 g
Added Sugars: 0 g
Protein: 25.2 g
Vitamin A: 0.4 mcg
Vitamin C: 38.4 mg
Vitamin D: < 0.25 mcg
Calcium: 108 mg
Iron: 12.3 mg
Potassium: 1305 mg